Raising the Bar
Our attention to detail isn't limited to the kitchen. We've built a well-stocked bar full of vintage spirits, inventive artisan cocktails, choice beers, and all the makings we need to craft your perfect drink.
The Art of Mixology
We've taken the steakhouse bar up a notch with our handcrafted cocktails. We've given some classic drinks a modern makeover, and we've added a lineup of creative originals to give you a deliciously new drink experience. Our cocktails are globally inspired and combine curated spirits, fresh ingredients and house-made syrups for unmatched quality. Our fully stocked bar also features more than 100 premium brands to create any cocktail your heart desires.
Fully Stocked With Specialty Spirits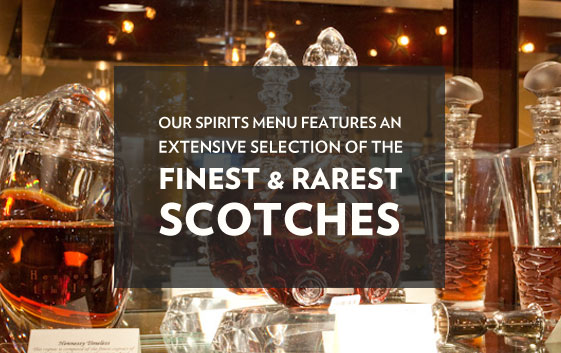 We proudly offer one of the largest collections of rare single malts in the Southwest. Our unique stock of spirits includes vintage whiskeys, some of which are so limited you can only find one or two bottles in all of Texas. And we carry some of the finest Scotches ever released, such as The Macallan 1946. On occasion, we host some of the makers of these incredible spirits. We have 350 open bottles of spirits, so we're sure to offer something that pleases your palate.
Local Craft Beer on Tap
We have an incredible selection of 40 beers available, many of those locally brewed, but the finest feature of our bar is how we keep these beers at the perfect temperature. We keep our taps frozen at about 27 degrees, and our entire underground beer line is frozen with glycol. This unique system means your first beer will always be just as cold as your last. In addition, we bring in top beer experts and premiere craft breweries for our incredible beer dinners. Past dinners have spotlighted popular brands for pairings featuring various lagers and ales, and celebrated Houston and Dallas' local brewing scene with a selection of local breweries.