Extraordinary Selections
Always in Our Cellar
We believe the opportunity to enjoy exquisite wine is an integral part of your dining experience with us. We've spent years building a wine program to be proud of, with an extensive collection, highly experienced sommeliers and exceptional events. Our collection boasts 3,900 distinct wines, including selections from every fine wine producing region across the world, and we're always expanding both the depth and breadth of our collection. We've built strong relationships with producers across the globe, allowing us access to many hard-to-get specialty wines. This constantly gives our Guests the opportunity to experience new and unique wines. We strive for our collection to have wines that make lovely pairings and hit the right price points for Guests no matter where you are in your journey to learn and experience wine.
In-House Experts
Create Perfect PairingS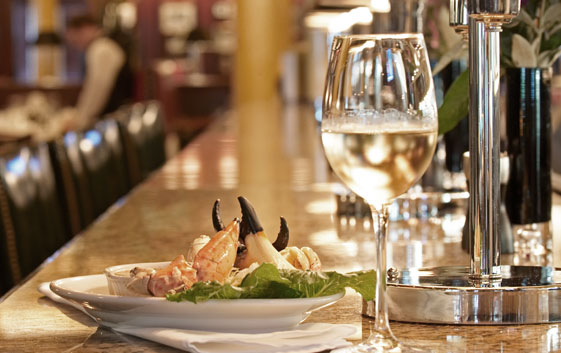 One thing you can always be sure of about dining at Pappas Bros. Steakhouse: you will always have access to the most approachable, friendliest and knowledgeable sommeliers in the industry. All our sommeliers are certified, and half of our sommeliers have earned either Master or Advanced Certificates. These talented professionals love sharing their passion for wine, whether they are guiding a wine enthusiast to a new vintage or educating a wine novice in finding pairings they'll love. Our sommeliers will often be on hand to enthusiastically help you grow your wine knowledge as you return again and again.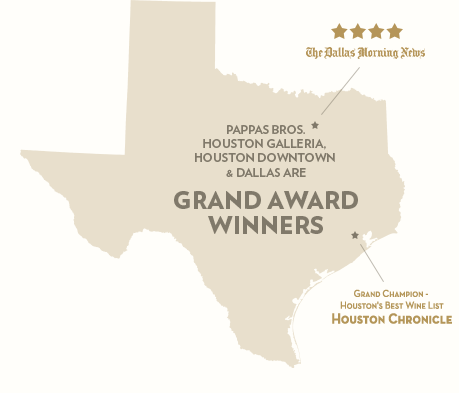 A Wine Destination
Our passion for wine and our dedication to Guest service has garnered us many fans in the wine world and big awards. There's no greater recognition for a restaurant's wine program than Wine Spectator's Grand Award. Competition is intense; only about 85 restaurants around the world achieve this honor each year. We are honored that our Houston Galleria location has won since 2010 and our Dallas location has won since 2011. Our newest location, Houston Downtown, opened its doors in November 2015 and has been awarded in 2016 and 2017 with the Best of Award of Excellence. This status has afforded us the opportunity to connect with some of the top wineries to create our unique wine dinners, and made us a major wine destination for connoisseurs. But we're not content to just rest on our laurels. Our talented sommeliers and wine director are constantly out there, discovering new wines and expanding our wine-list, creating unique new events and fine-tuning our program to earn the Grand Award again and give you, our Guest, the finest experience possible.
Experience One-of-a-Kind Wine Events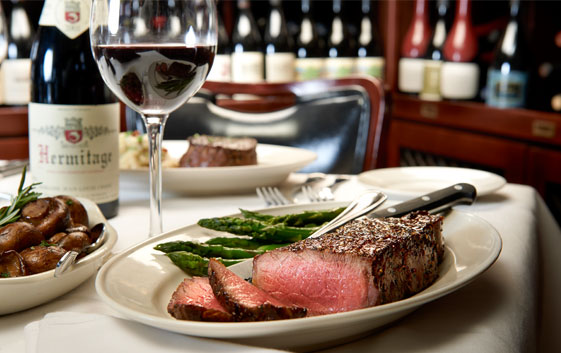 Our wine dinners and tastings provide our Guests with unique ways to explore the world of wine. Our sommeliers take great pride in creating new concepts, like pitting one winery against another in a tasting, and bringing in exclusive and boutique wineries. These events offer something for everyone. The wine novice may enjoy a tasting, where they can expand their palate as they enjoy trying 10-15 different wines. A more knowledgeable wine enthusiast might prefer one of our sit-down wine dinners, in which our executive chefs collaborate closely with wineries to craft the perfect dishes to enhance the wines.
Tastings
9-10 are held each year, focused on a portion of our wine list, a particular region or even pitting two wine regions against each other
Interact with our sommeliers
Try the wines at your own pace and enjoy lively exchanges with other Guests
Enjoy chef selections of seasonal hors d'oeuvres
Dinners
7-8 are held per year, often focused on a particular winery
Meet the winemakers
Enjoy a sit-down, multicourse dinner with specially chef-selected pairings throughout the evening